Date:
September 11, 1:30 pm —
September 14, 5:30 pm CEST
€1,295.00
First come, First served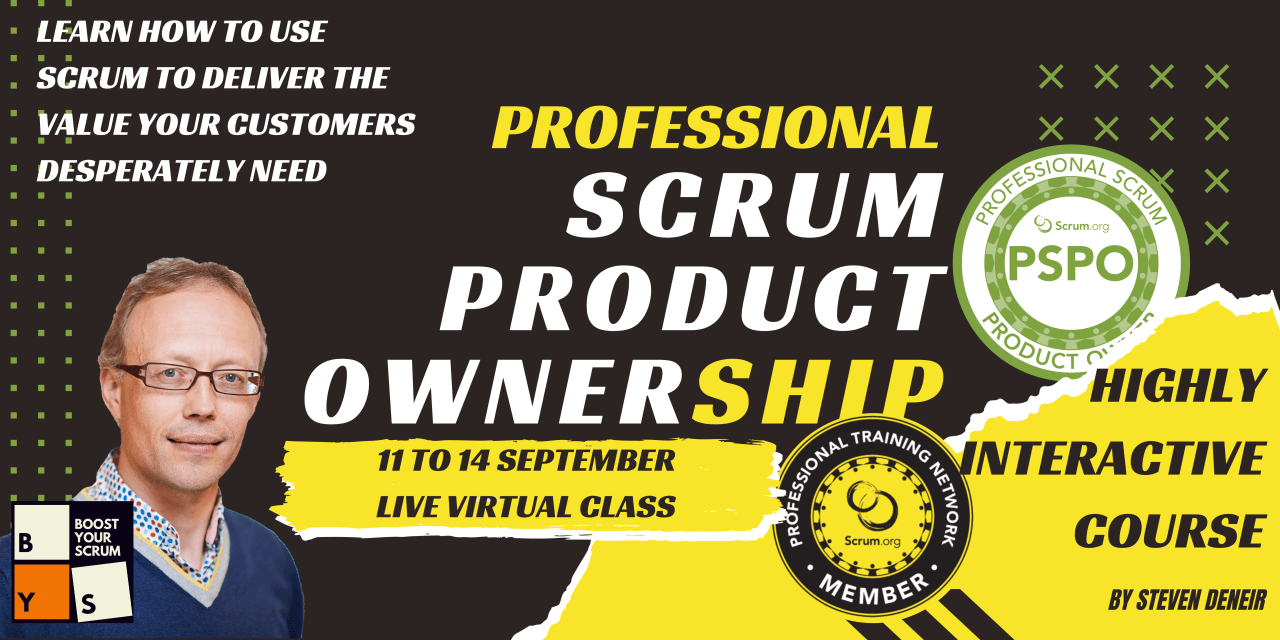 Session hours:
Each day from: 13:30 – 17:30
Professional Scrum Product Owner(ship)
Being a professional Product Owner encompasses more than writing requirements or managing a Product Backlog. Product Owners need to have a concrete understanding of all product management aspects, including but not limited to product ownership, that drives value from their products.
Professional Scrum Product Owner focuses on all of these areas to teach students how to maximize the value of products and systems. It explores the worldwide challenge that many Scrum implementations run into, i.e. how should business people and product managers engage in Scrum and collaborate with Scrum Development Teams?

The Professional Scrum Product Owner class focuses on the core expectation for Product Owners to maximize the value of the work done for a product or service, and thereby serving customers, users and the organization.

The breadth of the role's responsibilities in delivering a successful product will become more clear from an Agile perspective. Metrics are identified to track the creation of value and the successful delivery of the product to the marketplace.
Scrum.org selects only the most qualified instructors to deliver this course.
Course topics
Agile Product Management
Value-Driven Development
The Scrum framework and the role of the Product Owner in it
Product Backlog Management, including Releases
Objectives
Students will have a clear understanding of the mechanics of Scrum and how the role of the Product Owner fits in.
Students are challenged to think in terms of Scrum and the Scrum principles to better understand what to do when they return to their workplaces.
Students can act as a Product Owner for Scrum Teams and stakeholders.
Students can effectively increase the business agility of their organization
Target Audience
The training may be interesting to all involved in product and service development upon the Scrum framework, yet has been specifically conceived for those responsible over products/services from a business and product management perspective and taking up the highly accountable role of Scrum Product Owner.
Format
Students work in teams. They learn through team assignments, discussions and hands-on exercises. Expect to challenge and to be challenged. This course will be taught in English.
Prerequisites
Attendees make the most of the class if they:
Have studied the Scrum Guide (required) – available at https://scrumguides.org/.
Took the free Scrum Open assessment (https://www.scrum.org/open-ass…) and the free Product Owner Open assessment (https://www.scrum.org/open-ass…).
Have a good understanding of Scrum either through working on a Scrum Team, or through taking part in a Professional Scrum Foundations or similar course.
Have been on or are closely involved in building or enhancing a product or service using Scrum.
Assessment and Certification
The Professional Scrum Product Owner course has three associated credentials : Professional Scrum Product Owner level I, II, and III (PSPO I, PSPO II, PSPO III).
All participants completing the Professional Scrum Product Owner course receive a password to take the PSPO I assessment and are entitled to a discount on the PSPO II assessment.
These industry-recognized certifications require a minimum passing score on the associated rigorous assessment. Scrum.org maintains a public list with everyone holding a PSPO credential.
Students are able to claim Project Management Institute (PMI) PDU credits: 14 PDUs after attending a two-day Professional Scrum Product Owner (PSPO) course. Please note that PMI PDUs are earned for course attendance and not for passing a PSM I assessment. Students can claim PDUs under PMI's "Education courses provided by other third-party providers" category
We are a proud member of the Scrum.org Professional Training NetworkTM (PTN). As PTN member we align with the Scrum Values and are committed to improving the profession of product delivery in part by providing Scrum.org training.

Any doubt this course suits your needs?
Any question we could help you with?
Do you want this course in-company?


Let us know.