Date:
December 6, 2022 1:00 pm —
December 9, 2022 5:00 pm CET
€1,295.00
First come, First served
Ended on December 5, 2022
€1,395.00
Limited seats
Ended on December 5, 2022
€1,495.00
Regular
Ended on December 5, 2022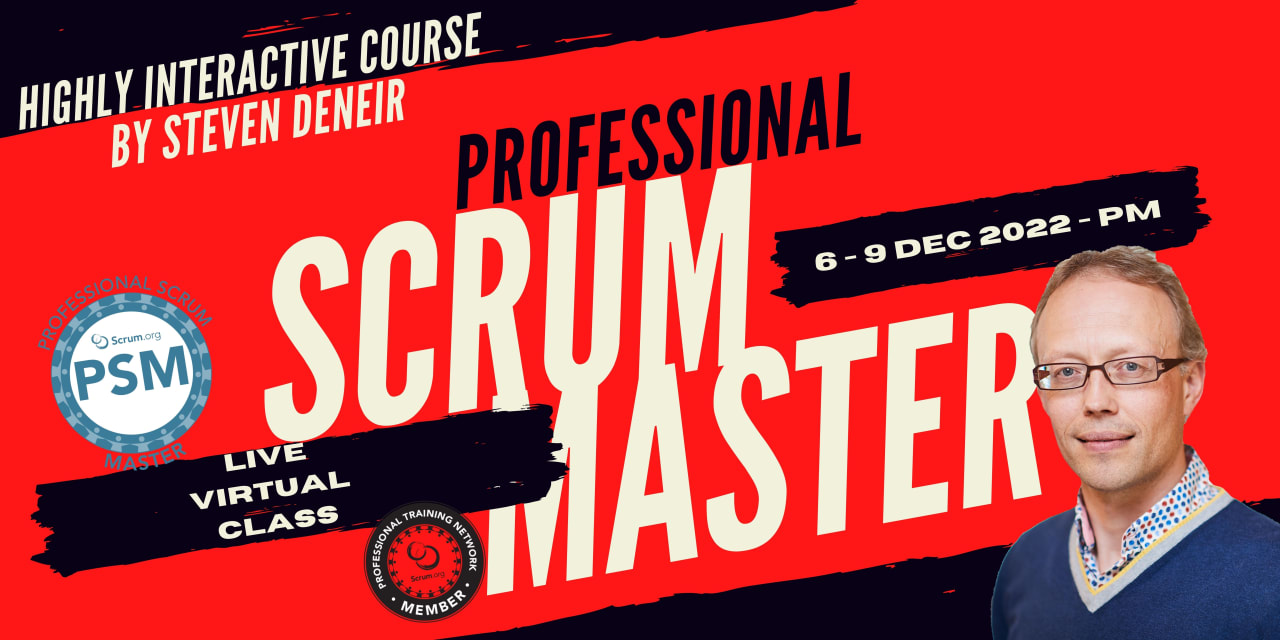 Professional Scrum Master is the cutting-edge course for effective Scrum Masters and for anyone facilitating or coaching a product/service development team toward increased efficiency and effectiveness. The course includes advanced thinking for host-leadership and behavioural shifts.

The course covers the principles and (empirical) process theory underpinning the Scrum framework, and the role of the Scrum Master in it. It teaches what is at the heart of the Scrum and Agile movement.
Scrum.org selects only the most qualified instructors to deliver this course.
Course topics
Scrum theory and principles
The Scrum Framework
The Definition of Done
Product Delivery with Scrum
Working with people and teams
The role of the Scrum Master
Objectives
Students are challenged to think within the Scrum Framework and the underlying values and principles to better understand what to do when returning to the workplace and facing complex decisions.
Students will have a clear understanding of the rules of Scrum through the empirical foundation of Scrum.
Students can act as a Scrum Master for Scrum Teams as well as stakeholders from an in-depth understanding of host-leadership.
Students are able to start up Scrum or increase its effectiveness if already underway.
Target Audience
The Professional Scrum Master course is for anyone involved in product delivery using the Scrum framework. It is particularly beneficial for those people within an organization accountable for getting the most out of Scrum, including Scrum Masters, managers, and Scrum Team members.
Format
Students work in teams. They learn through team assignments, discussions and hands-on exercises. Be ready to challenge and be challenged. This course will be taught in English.
Prerequisites
Attendees make the most of the class if they:
Have studied the Scrum Guide (required) – available at https://scrumguides.org/.
Took the Scrum Open assessment.
Have a solid understanding of Scrum either through working on a Scrum Team, or through taking part in a Professional Scrum Foundations or similar course.
Have been on or are closely involved in building or enhancing a product or service.
Timing
Four afternoons: 6 to 9 December, each day from 13:00 – 17:00 CET
Assessment and Certification
The Professional Scrum Master course has three associated credentials : Professional Scrum Master level I, II, and III (PSM I, PSM II, PSM III).
All participants completing the Professional Scrum Master course receive a password to take the PSM I assessment and are entitled to a discount on the PSM II assessment.
These industry-recognized certifications require a minimum passing score on the associated rigorous assessment. Scrum.org maintains public lists of all PSM I certificate holders and PSM II certificate holders.
Students are able to claim Project Management Institute (PMI) PDU credits: 14 PDUs after attending a two-day Professional Scrum Master (PSM) course. Please note that PMI PDUs are earned for course attendance and not for passing a PSM I assessment. Students can claim PDUs under PMI's "Education courses provided by other third-party providers" category.

We are a proud member of the Scrum.org Professional Training NetworkTM (PTN). As PTN member we align with the Scrum Values and are committed to improving the profession of product delivery in part by providing Scrum.org training.

Any doubt this course suits your needs?
Any question we could help you with?
Do you want this course in-company?


Let us know.